Everyday Australians can now invest in mortgages
Join other investors, companies and self managed super funds (SMSF) enjoying Australia's leading mortgage market place. Build a regular monthly income stream and make your savings work harder.
Each investment is in a single stand-alone mortgage and you can diversify your portfolio by selecting and investing in multiple investments on offer.
Target Returns from 5% to 9% pa.*
First mortgage security.
Interest paid monthly.
Invest from $5000.
The potential of your investment
Enter the amount, years and interest rate below
Recent investments
Our mortgage investments are open to everybody, not just the big banks and wealthy institutions.
Target Returns from 5% to 9% pa.*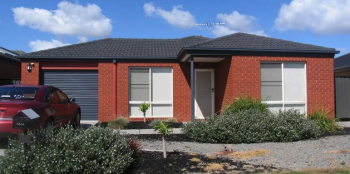 Melton VIC 3337
The security property is a single-storey detached residential dwelling with 3 bedrooms, 2 bathrooms and a single attached garage on a 438sqm allotment.
Target return6%pa*
LVR49.93%
Term12 Months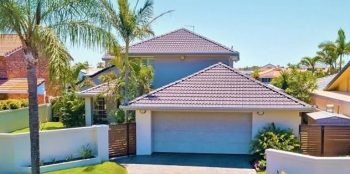 Runaway Bay, QLD 4216
The Security Property is a residential house comprised of 4 bedrooms, 3 bathrooms and double garage on a 669sqm allotment located 11 km north of Surfers Paradise.
Target return6.95%pa*
LVR62.50%
Term12 Months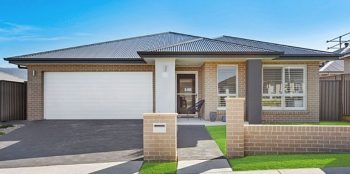 Calderwood NSW 2527
The Security Property is a residential house comprised of 4 bedrooms, 2 bathrooms and attached double garage on a 438sqm allotment located 25kms south-west on Wollongong.
Target return6.5%pa*
LVR51.38%
Term6 Months
Why invest with Funding?
Regular Income
A great way to diversify your investment portfolio by investing in real estate loans. Regular interest payments to your account.
Australian Property Secured
Investments are secured by a registered first mortgage over Australian property, giving you capital protection. In the event of default, the property can be sold to recover the principal, interest and costs.
Short-Term
You choose your investment term based on the specific mortgage you invest in. This may vary from 1 to 36 months.
How to get started
Register
Create a free account in less than two minutes by signing up below.
Fund your account
Add funds to your account, which will be held in trust until you begin investing.
Invest
Select, invest and manage your investments on our marketplace 24/7.
Online 24/7 access
Access your investments through our online platform, anytime, anywhere.
Invest from $5,000
Interest paid monthly
First mortgage security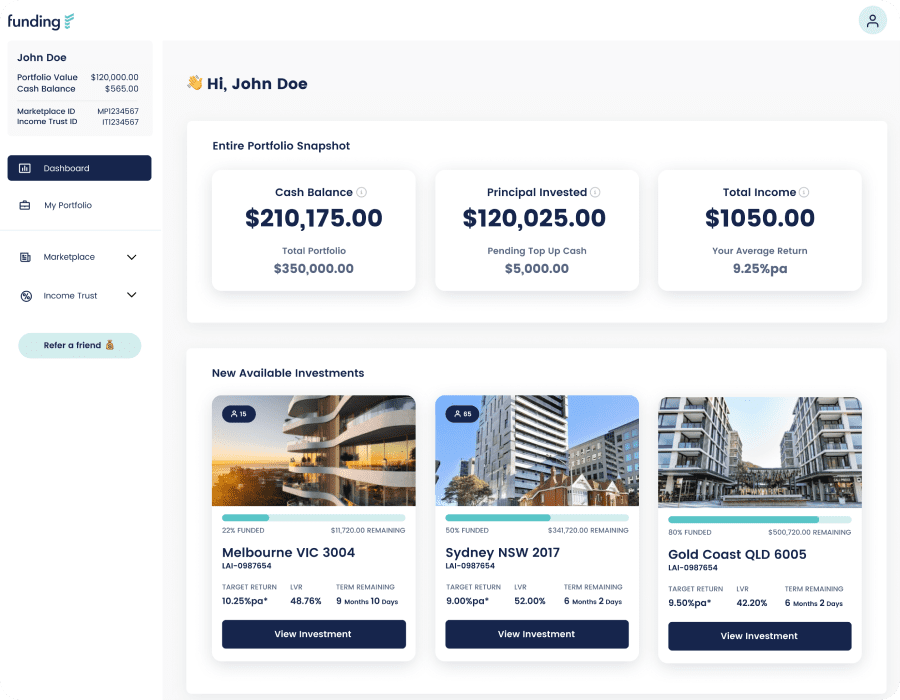 Receive an Info Pack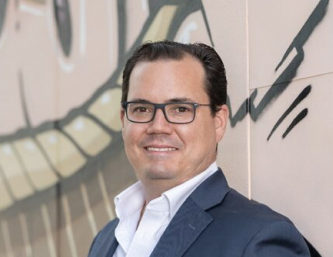 David Serafini
Investment & Platform Manager